Home » Posts tagged 'Michigan'
Tag Archives:
Michigan
This week's State Agency Databases Project subject highlight is Voting & Elections, featuring 36 states that project volunteers know to have publicly searchable databases in this subject area. Three examples from this compilation are:
Alaska Public Offices Commission (APOC) Reports Search – Searchable database of Campaign Disclosures and Financial Disclosures for Alaska State Government. Searchable by candidate, officer holder, and contributor. Links to PDF lobbyist directories and reports.
Campaign Finance Database – Search for campaign spending and contributions by All Committees, Expenditures Analysis, Contributions Analysis, Ballot Question Committee, Candidate Committee, Political Party Committee, Independent/Political(PAC)Committee, or Gubernatorial Committee. One can also search for Late Contributions. Information for committees include a Statement of Organization that includes the address information, treasurer information, and more.
Polling Place Locator – Wyoming Secretary of State – Search this site to help determine where you should go to cast your vote for the state's Primary and General Elections.

For more, see http://godort.libguides.com/votingdbs. If you know of state agency produced databases in the this area, either comment here or use the "Email me" link on the guide to report a database, which will be forwarded to the appropriate project volunteer.
Today our Federal Depository Library themed celebration of National Library Week focuses on the 2006 winner of the Government Printing Office's Library of the Year Award. Here's the citation from the award page:
Benton Harbor Public Library Named 2006 Federal Depository Library of the Year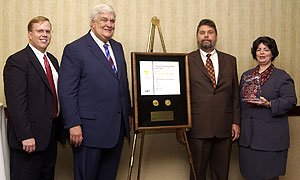 The U.S. Government Printing Office has selected Michigan's Benton Harbor Public Library as the 2006 Federal Depository Library of the Year. Public Printer Bruce James presented the award to library officials October 22 at the annual Federal Depository Library Conference. In presenting the award, James commended the library for providing the residents of its community with online access to authentic published Government information. "I am honored to present this award to the Benton Harbor Public Library. Our partnership with the Federal Depository Library is an example of how GPO and local libraries can help communities across the country access authentic published Government information," said James.
"I am especially glad to see the library using the far-reaching benefits of the Web to post Federal Government documents that residents can download electronically."
Benton Harbor Public Library is in an economically challenged area and used limited funds to ensure Federal Government resources are used to their full potential. Michigan's United States Senators are proud of what a library in their home state was able to accomplish.
"I commend the Benton Harbor Public Library staff not only for its commitment to providing citizens with access to a wide range of Government resources, but also for presenting these resources in a manner that so directly meets the needs of the community," said U.S. Senator Carl Levin.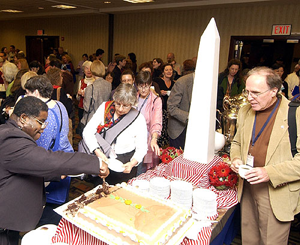 "Great things are happening because of great people in Benton Harbor. I'm so proud to represent them," said U.S. Senator Debbie Stabenow. "This award is very special and very well deserved. I want to congratulate Fred Kirby, our great director of the library, and his staff."
Michigan Governor Jennifer M. Granholm, in a letter congratulating the library on the award, noted that "the staff at Benton Harbor Public Library are showing your community how to navigate, use and ultimately leverage primary source materials where they can arguably do the most good and where — without the commitment of the library to offer such materials — they would otherwise be unavailable to many people. This award is a testament to your library staff's passion for information and commitment to your community. On behalf of the people of Michigan, whom you serve so very well, please accept my congratulations and best wishes as you celebrate this much deserved recognition."
—
Do you have a story about the Benton Harbor Public Library? Share it in comments!
It was a busy week for the volunteers at the State Agency Databases Project at http://wikis.ala.org/godort/index.php/State_Agency_Databases.
FEATURED DATABASE
Today's featured database is from Susanne Caro who maintains the Montana page:
Montana Field Guides http://fieldguide.mt.gov/default.aspx
"These guides and this website are a collaborative effort between the Montana Natural Heritage Program and Montana Fish, Wildlife and Parks.  The Animal Field Guide provides information on identification, habitat, ecology, reproduction, range, and distribution of Montana's animals; new features include a hierarchal approach to finding an animal of interest, thumbnail photos of the animals and additional links.  The Plant Field Guide offers information on plant species of concern, including references and photographs." –FWP description
DATABASE CHANGES
See the full story of the last week's changes by visiting http://tinyurl.com/statedbs. Below are some highlights of the week.
PAGES WITH UPDATED LINKS
DATABASES ADDED
MARYLAND (Siu Min Yu)
Security Interest Filings – To search for information on security interest filings made with the State Department of Assessments & Taxation.  One can search by the business name, by individual's name and/or by the file number.
NEW YORK (Michael Tatonetti)
Child Care Facility – Search for child care facilities. Search by license/registration ID, facility name, type, county, or zip code. You can also limit your search by facilities that administer medication and facilities that offer non-traditional hours of care.
VIRGINIA (Louise Buckley)
Virginia Natural Heritage Database Search – Users can generate lists of plants and animal species that occur in specific counties, watersheds, subwatersheds or regions such as the Cumberland Mountains or the Outer Coastal Plain. Searches can be done on individual or groups of resources, by scientific or common name, taxonomic group, federal or state legal status, and global or state rarity rank.
WISCONSIN (Mark Rozmarynowski)
Find Local Crime Victim Resources – from the Office of Victim Services. Resources for survivors of domestic violence, sexual assault, child abuse, drunk driving, homicide and other crimes. Resources searchable by county.
Historical Newspaper and Magazine Indexes
Maryland Online Digitized Newspapers – These online digitized newspapers are part of the Special Collections of the Maryland State Archives.  These newspapers are from the 18th century to the mid-20th century.  The digitized newspapers are listed in alphabetical order along with its time period.  Scroll down the page to find if a particular newspaper title that you needed is on the list.  Please read the noted information on fair use from the bottom of page.
DATABASES REMOVED
Michigan (Michael McDonnell)
Michigan School Report Card – Search schools by name, school district or zip code.  Search results provide a list of schools and links to their scores for student achievement in language and mathematics as well as indicators of school performance (teacher quality, student dropout rate). Former URL: https://baa.state.mi.us/ayp